Zipline Samana
April 23 the 2022
The Zip Lines Adventures adventure park invites you to fly over the green and exuberant mountains of Juana Vicente, over the tropical forest, and the formidable landscapes of Cayo Levantado Island. It has 20 platforms and 10 cables between 85 to 450 meters long and is certified by the Association of Technology for Competition Circuits (ACCT), which regulates all zip lines worldwide.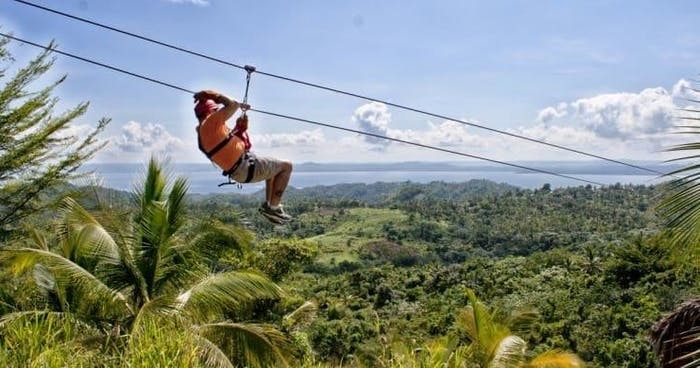 When arriving at the establishment or premises, which is shaped like a ranch, it is this place where the park's administrative offices are located, where the safety equipment is placed on all the zipline participants, and where the instructors or guides are assigned. The quantity of these will depend on the quantity of the group. If some of the participants for the zipline carry a backpack, bag, etc. They must stay in one of the offices of the establishment (safe place) since it is forbidden to carry any of these items, for the safety of users.
Once the safety equipment (helmets, harnesses, etc.) is put on, the group is transported by vehicle to the starting point, to begin the adventure, this place is approximately 100 meters from the establishment where the offices are. Being the starting point of the tour, the instructors give the group the necessary information to make the entire tour and zipline experience as pleasant and exciting as possible.
The route consists of crossing the 10 cables, which have different lengths and provide different and spectacular views.
The Zip Lines Adventures park is located several minutes from the Samaná pier, it is one of the most exciting adventures in the northeast of the Dominican Republic. Get ready to safely live an exciting experience.